The situation in Afghanistan has reinforced the need for journalism as a purveyor of democracy through delivering stories that are based on truth, equal rights and freedom. When journalists are under threat, there needs to be a concerted, collective effort to provide safe spaces so these voices are not silenced or forgotten.
Over the past year, like other organisations, the Refugee Journalism Project has had to adapt to the changes necessitated by the covid pandemic. Although this unprecedented time has not been without its challenges, it has also presented opportunities to experiment with new forms of delivery and collaborations. 
This year, the Project was broken down into two phases. Phase 1 delivered a programme of workshops, mentoring, networking and publishing opportunities to 18 refugee and migrant journalists living in the UK. Phase 2 saw the Project offer paid fellowships to five of the most promising participants from Phase 1.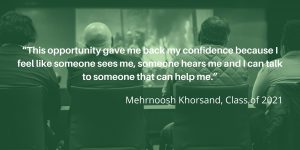 Phase 1 was delivered using a secure online education platform, supported by London College of Communication. To avoid the possibility of a digital inequality, we offered laptops and portable WIFI dongles to those in need. Working with our partners, we delivered a range of online journalism, employability and well-being sessions.
Online delivery made it easier for our participants to access and attend the sessions as they could be scheduled around work and family commitments. As a result, attendance and engagement were very high. It was also more cost-effective and environmentally sustainable as we avoided the need for travel between multiple locations. This was particularly significant for this year's cohort as we recruited participants as far afield as Glasgow, Bristol and Norwich.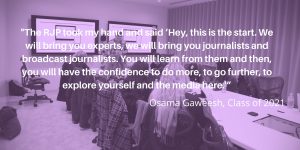 The participants say they feel a greater sense of belonging and professional worth as a result of attending Phase 1. They also say they have more confidence, are better connected and feel more in tune with the demands of the UK media industry.
For the first time we have been able to offer a six-month Fellowship programme. The successful Fellows were offered paid placements with a UK-based media organisation where they gained intensive, on-the-job experience. One Fellow was offered a full-time, permanent role within three weeks of starting his placement.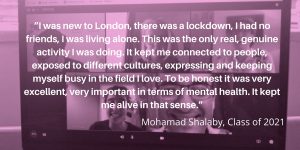 The Fellows say they witnessed a significant improvement in their English writing skills and professional confidence. The host companies say they particularly valued the different perspectives that the Fellows brought to their media output and organisations.
This annual report presents some of the notable activities and achievements from 2020/21. I would like to thank all those who have helped make this year possible, particularly our funders Open Society Foundations, Google News Initiative and Unbound Philanthropy.