By Zouhir Al-Shimale
I began my journalism career as a civilian reporting on the ground in Aleppo, Syria, my hometown. I didn't have an education in journalism. On the ground, I learned how to tell the stories of the people of Syria, with a truthful insight into what life was like.
In spite of the dangers that came with this task, I felt that I was performing a role that must be done by Syrians themselves. I also found myself drawn to the profession of journalism.
At the time, the media outlets around the world were suffering from a lack of content and news about Syria, which in part was due to a lack of English-speaking journalists on the ground in Aleppo, but also due to the extremely limited internet access and electricity.
My career really began on an international level in 2014/2015 as I started to develop a large network of connections with news editors who were in charge of commissioning stories directly, so I didn't have to go through other journalists or fixers.
I dedicated my attention to covering the humanitarian crises in Syria and what followed afterwards. So, this included the human rights violations by the Syrian government targeting service facilities, as well as violations conducted by local rebel factions against people and activists within the city.
Despite the existence of radical groups in the city whom had been targeting journalists – in the same way as Assad's regime – alongside other reporters. I was determined to focus on covering and exposing the inhuman practices of those factions and their violations.
These challenges greatly improved my journalistic skills and on the ground experience in covering war zones, where exposure to shelling and aerial attacks were daily occurrences.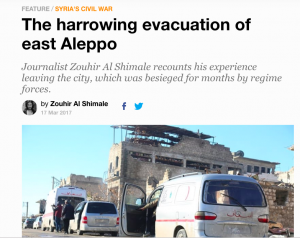 After leaving the city in December 2016, I moved to Idlib, north Syria where I continued my coverage, this time focusing on the humanitarian crises the refugee camps after the evacuation of Aleppo. This work contributed to raising global awareness about the humanitarian crises.
As a freelancer, I believe that it is important to develop a self-promotion strategy, in order to get more editors to get in touch with you seeking help for their stories. But also, promoting our work also helps make an impact and boosts action based on the stories that we publish.
As a self-taught journalist, working alongside highly skilled editors and learning from them has been important as it helped develop my work. It allowed me to contribute to big media outlets and be featured in online news coverage, conducting live streaming from inside the city for BBC, The Sunday Times, The Telegraph Die Ziet, CNN and many other media agencies. This massively pushed my credibility and increased my story exposure to reach a large-scale audience.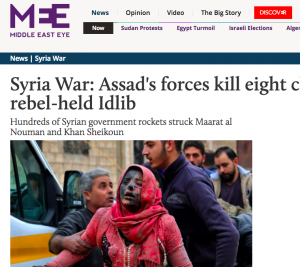 I came to the UK in October 2018. I believe that through being in the UK, which has been quite satisfying so far, I will have the opportunity to further empower and improve my journalistic career by being involved with native English speakers and media organisations who are interested in developing talented young journalists.
For a non- native English speaker, it'll be challenging and I will have to work hard to fit in and reach the high standard required to write materials suitable for British audiences.
Also, for a Middle Eastern journalist it is overwhelming and hard when you come here and try to find where to start. The diversity and differences between the British media approach and way of working compared to what I have been used to is challenging.
However, I am excited about confronting these challenges and continuing my career in the UK. It's an uneasy task moving to another part of the world as a journalist. However, the foundation of journalism in the UK with its commitment to free open sources of information and resources, will motivate me in becoming a successful journalist.