Liminality is the state of being in between; of belonging neither here nor there. With it comes disruption, anxiety and invisibility. But liminality is, however, a temporary state of existence, so with it also comes the hope of future transformation and empowerment.
This was the theme of a recent public event delivered by the Refugee Journalism Project. It explored this transitional period of migratory life from the perspective of persecution, freedom, and resettlement. It took a humanistic approach, encouraging critical thinking about how we perceive human beings who find themselves having to leave their home countries, but who are ultimately survivors.
The event brought together NGOs, editors, activists, journalists, students and university staff in a series of workshops ranging from cybersecurity to identity and mask making. There were also discussions on issues like mental health and resilience amongst refugees and asylum seekers, and a podcast recording on media representation. Work produced by UAL students and RJP journalists was also exhibited.
Kerim Balci & Henry Glover  Urim and Tummim (2019)
Urim and Tummim are two human size statues in jail cells representing the plight of incarcerated journalists, authors, artists and intellectuals all over the world. Urim is modelled on Turkish author and journalist Ahmet Altan and is wrapped with the covers of 115 banned books from various countries.
Mr Altan was arrested soon after the Turkish coup attempt in 2016 and was sentenced to life term in prison on alleged "dissemination of terrorist propaganda via subliminal messages in his columns".
A recent decision of the Court of Appeal cancelled the verdict. He will stay in jail during a rehearing of the case. His prison memoirs, "I will never see the world again", has been recently nominated for the prestigious Baillie Gifford prize for non-fiction.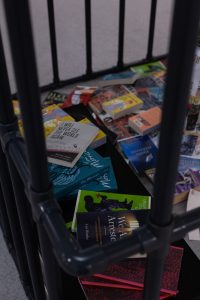 The second statue, Tummim, is modelled on Turkish journalist Nazli Ilicak, who has been convicted of the same alleged crime by the same Turkish court. She is waiting for the second hearing of her case while still behind bars.
Aged 75, Mrs Ilicak's plight is particularly dreadful, as she used to be a member of parliament for the Felicity Party, the mother party of President Erdogan's Justice and Development Party.
Tummim is covered with front pages of banned or shuttered newspapers and magazines from around the world.
The names of the sculptures are taken from two Biblical words linked to judgements made by the high priest revealing the will of God.
Though their meanings are uncertain, Urim and Tummim possibly meant "Lights and Perfection," or "Cursed and Innocent" respectively.
Ernest Zhanaev  Nomadic Exile (2019)
This 180-photographs project tells the story of an asylum seeker who, over a six-month period, is dispersed to hostels in different parts of the country by the Home Office. The photographs, shot on a smartphone camera, depict the surrounding environment as seen and experienced by the photographer. The 15 blank squares represent the number of days he spent in detention.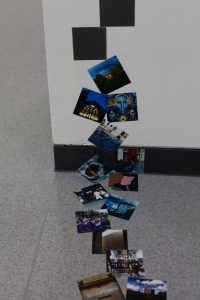 The asylum process – from application through to dispersal then to settlement – is a journey full of distress and impressions. It is not necessarily black or white, negative or positive, but full of colours.
These pictures should reveal to the viewer a world as seen by an asylum seeker, and the impact uncertainty, bureaucracy and poverty have on the state of mind. These feelings are also bound up in the fight to gain acceptance.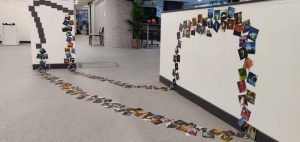 For example, noticing only scenes full of negativity reflect the mental anguish of the photographer, and the acknowledgement that he is still an outsider.
This detaches him from the positivity of the environment, unbalancing him and narrowing his world into a photographic corridor. The photographs were taken in London, Birmingham, Loughborough and Leicester in 2015.
Michelle Fuller & Arushi Gupta  Tales of a Hostile Kingdom (2019)
This animation, based on Fuller's writing, depicts the UK's "hostile immigraton environment" as a fairytale, drawing on elements of the government's approach which have impacted and destroyed the lives of thousands of non-EU nationals.
As Home Secretary in 2012, Theresa May's policy introduced a cruel new approach towards immigration that aimed to make life so difficult for people in the UK who didn't have the correct documents, that it would force them to leave the UK.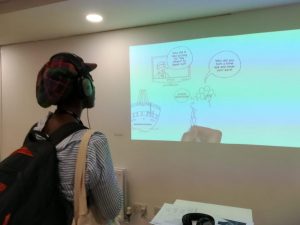 The reality of translating this policy into practice has created a deeply unequal and rigidly divided society.
While citizens benefit from a wide range of human rights, and enjoy a certain standard of living, others have been deemed illegal – which is a term with only one use – to justify discrimination.
If ill, they struggle to get healthcare. If released from work, they have no labour rights.
If evicted, they may be forced to live on the streets. They cannot drive or open bank accounts, are demonised in media and treated with disgust by a large part of the political establishment.